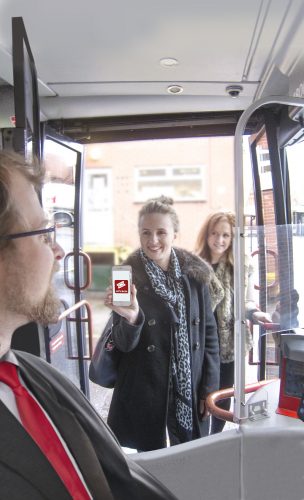 National Express West Midlands is celebrating the sale of its mobile phone app's millionth ticket.
The operator began selling tickets via the mobile app in September 2016, reaching one million sales in February of this year. According to the firm, 10% of its journeys are now paid for on mobile phones – a figure which is still growing.
When surveyed, 55% of those currently using the app said it had encouraged them to use the bus more as it's both easier and cheaper – thus benefiting local economies as well helping to ease congestion and air pollution.
Since making single tickets available on the app in January, the company has sold almost 100,000; survey participants also scored the app over 80% for satisfaction.
Tom Stables, Managing Director of National Express West Midlands, said: "We're always looking for new ways to use innovation and technology to make it easier, quicker and cheaper for our customers to travel.
"Customers can get all kinds of tickets on our phone app. They can buy the best value option for them, then just show their phone to the driver as they get on the bus.
"It's really easy to use – no need to worry about finding the right change or getting paper tickets. And it's the cheapest way to buy our most popular products – using your mobile is always cheaper than using cash."
Commenting on the survey results, Tom added: "We're very grateful to our customers for their feedback. I was particularly pleased to see one quote, from a deaf user, telling us it made it much easier for them to buy a bus ticket.
"We're now working on some of the customers' suggestions for the next version of this mobile ticketing app."