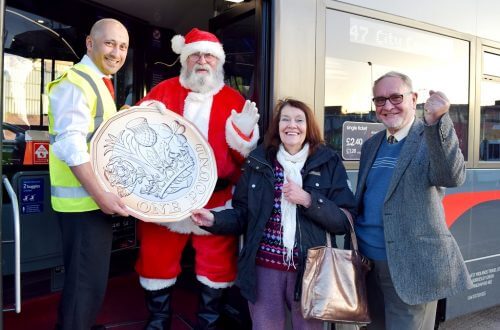 From Tuesday, January 2 2018, National Express West Midlands is introducing a £1 single fare for senior citizens to travel by bus before their OAP free bus pass becomes valid at 0930hrs.
Tom Stables, Managing Director for National Express West Midlands, commented: "National Express West Midlands buses are for everyone, so I'm delighted to offer this £1 single fare to our senior citizens. They'll be available to buy them on our buses in the new year."
National Express West Midlands has worked closely with Transport for West Midlands (TfWM), the transport arm of the West Midlands Combined Authority (WMCA) to make this £1 pre-0930hrs single fare possible.
Cllr Roger Lawrence, lead member for transport on the WMCA and leader of City of Wolverhampton Council said: "This is yet another example of how our Bus Alliance partnership with National Express is helping to keep fares as low as possible and in this case actually reduce them.
"TfWM already provides older and disabled people with free travel after 0930hrs on not just buses but also local trams and trains.
"This new £1 single fare will provide an extra helping hand for many older people, especially those on lower incomes, who need to travel by bus earlier in the day.
"The work we have done with National Express to introduce this £1 single fare also means there is no extra cost to local taxpayers, so it really is good news all round."
Walsall Councillor Richard Worrall, of the WMCA Transport Delivery Committee, added: "I'd like to say well done to the campaigners of West Midlands Pensioners' Convention, and a huge thank you to the management of National Express West Midlands and officers of Transport for West Midlands who have worked together to enable this significant widening of the travel options of the nearly half-million older and disabled citizens of the West Midlands who hold concessionary travel passes."
"I hope that other bus operators who do not presently offer this fare will now follow suit so that there is an 'early bird' £1 single flat fare on Mondays-Fridays for all concessionary pass holders on all buses in the West Midlands."
Andrea Stanton of the West Midlands Pensioners' Convention said: "This is so important for pensioners who have to get to hospital appointments before 0930hrs. You can't always pick your slot for a hospital appointment or clinic, so this will make those visits so much easier.
"It'll also help pensioners who help out with family – if you have to get round to take the grandchildren to school, this £1 single fare before 0930hrs will be perfect!"
Trevor Eames, also from the West Midlands Pensioners' Convention, said: "2018 is the tenth anniversary of the bus pass. We are keen to encourage its greater use. We see this as an opportunity for more working pensioners and others needing to make journeys before 0930hrs to 'ditch the car' and – for just £1 – travel anywhere across the West Midlands Network by bus instead."
About 20% of the West Midlands population is made up of senior citizens – higher than the UK average of 17%, meaning over 500,000 pensioners qualify for this new pre-0930hrs £1 single fare.