A team at National Express West Midlands recently won a global award for delivering safety to Birmingham.
The team based at the Yardley Wood garage in Birmingham, was gifted the award for turning around the garage's performance, to the point where it reached the highest ranking versus its sister garages across the West Midlands and Dundee.
This led to the team being invited to join colleagues from across the UK as well as colleagues from Germany Switzerland, Bahrain, Spain, Morocco, and North America, at the National Express Group Values Awards, held at the London Transport Museum.
The team were awarded the National Express Group Safety Award by Chief Executive by Dean Finch in recognition of their hard work in becoming 'Safety Leaders.'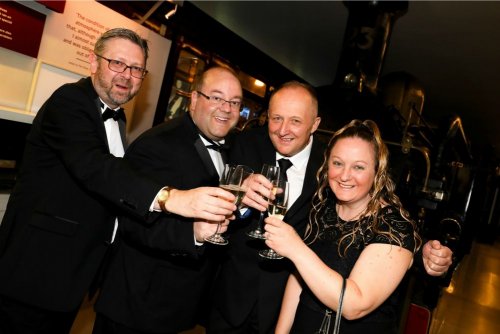 The team are now safety KPI leaders. The team drove forward change that saw 100% of drivers coach on time and over 97% of the coaching be deemed effective.
Mark Heffernan, National Express UK Bus Operations and Safety Director, said: "Safety is the number one priority for National Express.
"The Yardley Wood team have transformed safety culture and really embraced the partnership working with our drivers and engineering teams, resulting in an award-winning position that was unimaginable 12 months ago.
"We're very proud of the way the team have turned things around and become safety leaders in our business. I'm delighted that their efforts have been recognised with this fantastic safety award."
John Shaw, National Express West Midlands Operations Manager, said:"As a public transport operator it is our responsibility to ensure our staff and our customers are able to get to where they need to be, safely.
"The team at Yardley Wood have really pulled together to transform our local safety culture and improve our KPIs.
"Working cohesively across departments, as well as with our drivers, has massively improved our standards and helped us slingshot forward to become safety leaders in our business. We're really pleased that the hard work is paying off and we're absolutely over the moon with our award."
Read more news stories here: cbwmagazine.com/category/news