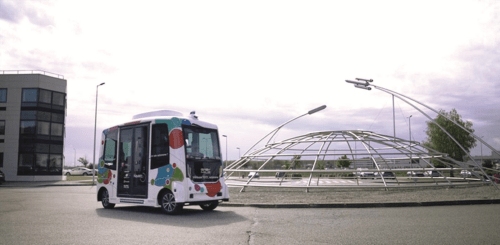 FRANCE
Autonomous electric shuttles have been running in fully autonomous mode with no driver aboard since December, as part of the Navetty research project involving Transdev and a number of specialist partners. The trial is believed to be the first use of its kind on a European scale of driverless vehicles in a complex environment, in normal traffic conditions.
Supported by the département of Yvelines, autonomous shuttle specialist EasyMile, ArianeGroup and Vedecom, the shuttles operated with an on-board supervisor since their official launch in May 2021 at the ArianeGroup site in Les Mureaux. In November, the move towards fully autonomous operation was made. The Yvelines region, which has invested €2.5 million in the project, hopes that the project will promote industrial research and development in the area as well as further the development of the technology and strengthen links between the aeronautical, technological and automotive industries in the region.
The two shuttles, developed by EasyMile and operated by Transdev, run daily on routes of up to 6.6km transporting up to 10 ArianeGroup employees per trip around the 92-hectare site. Since the launch, the vehicles have covered over 23,000 kilometres with no reported accidents. The route includes roundabouts, junctions, a tunnel and 18 stops throughout the site.
"We are proud to have a reliable and relevant service for ArianeGroup employees, on such a complex site and in a totally autonomous way. Autonomous shuttles reinforce the attractiveness of public transport, by offering practical and safe collective mobility solutions. Our technology is ready to be deployed on sites of this scale and other sites will soon follow Ariane's example," said Benoit Perrin, General Manager of EasyMile.
Transdev is using the programme to help prepare for its first commercial autonomous shuttle services, explained Virginie Fernandes, Director of Strategy and Transformation at Transdev Group.
With the initial technological goals achieved, efforts will now focus on developing the service for ArianeGroup employees, the partners explained, and a mobile application for on-demand reservations is set to be launched in the near future, meaning employees will be able to order a shuttle directly from their location thanks to an integrated geolocation system.
"Navetty has been part of the life of our site for a year and a half and is now preparing to go out into the city to eventually extend the service offered to our employees. True to its innovative and pioneering spirit, the ArianeGroup site in Les Mureaux is proud to actively contribute to the development of autonomous urban vehicles," said Hugues Emont, Director of the Les Mureaux facility.