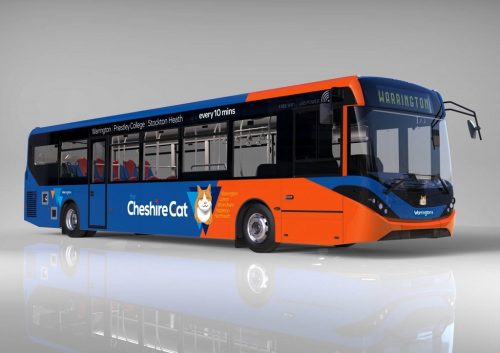 First brand new vehicle investment in five years will see 13 ADL Enviro200s introduced in late Spring
Network Warrington is introducing a new 'Cheshire Cat' branded network that will service the south of Warrington and come into effect later this year.
The operator said that the proposed changes will see buses in the south network simplified and improved, along with the introduction of a new bus fleet of 13 Alexander Dennis Ltd (ADL) Enviro200s. They are replacing Wrightbus-bodied DAF SB120/Volvo Merits.
Ben Wakerley, Managing Director of Network Warrington, told CBW: "We hope to have the buses in service from April/May, subject to delivery from ADL.
"We are working through a Business Plan for Network Warrington and are making improvements across the town. The Cheshire Cat was next on the list, after making improvements on The Pops and the 16."
The Cheshire Cat-branded buses will include WiFi, skylights, increased legroom and USB charging points. They are to be the first new buses purchased by the operator since six hybrid-electric Optare Versas were delivered in 2013.
Commenting on the changes, Ben said: "I'm pleased that we're making big improvements to the south network that will hopefully have our customers 'purring.' These are truly buses to be seen on!
"This latest round of improvements follow our Dallam discount, hospital frequency increase, Pops network and '£1.70 to Westy' initiatives, and I can't wait to unveil this further improvement.
"We will be introducing 13 new vehicles onto the Cheshire Cat network to ensure that our fleet remains modern, fit for purpose and achieves improvements for the environment."
Cllr Ian Marks, Lymm North and Thelwall added: "I'm looking forward to seeing the positive changes delivered by Network Warrington and the proposed routing, giving better connections."
The full improvements and changes to the south network are expected to be be announced next month, with a public roadshow on Wednesday, February 28 at Sandy Lane community centre at Stockton Heath.