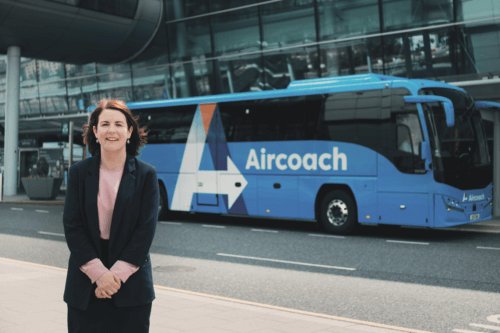 A new service connecting Derry/Londonderry to Belfast International Airport, Dublin Airport and Dublin City Centre began on 23 January, operated by Aircoach. The launch of its new 705X follows the acquisition of the North West based Airporter by First Bus subsidiary Aircoach last year. The acquisition included the former Airporter base at Springtown Industrial Estate in the city and the transfer of all drivers and operational staff to Aircoach to operate the new timetable and route.
The new routes will operate seven days a week from 0105hrs, with stops at Foyleside Coach Park, Drumahoe park & ride, Belfast International Airport, Belfast city centre, Dublin Airport and Dublin O'Connell Street, with return fares reduced by up to £13. Contactless payment and free WiFi are available on board, and the new timetable means that travellers from the north west of Ireland will be able to arrive at Dublin Airport for early morning flights. Tickets can be purchased online or on board.
Managing Director of Aircoach Dervla McKay said: "We are thrilled to launch the new service that will further improve airport connectivity for those in the North West, reducing fares for passengers and enabling them to avail of early morning flights at the two main airports on the island of Ireland. It will be a game changer for passengers travelling to and from the region.
"Since our acquisition announcement last year, we have been blown away with the response from local people and are excited to now finally see our iconic blue and orange Aircoach on North West roads. Aircoach is fully committed to this region, and we look forward to ensuring that it is connected to major travel hubs, improving the attractiveness of the area as a place in which to visit, work and invest."