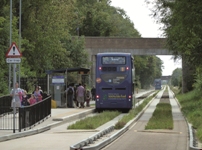 A new express bus service from Stagecoach has been launched linking Huntingdon with the Cambridgeshire Guided Busway in St Ives.
The service, which departs from the town bus station at 0710 and 0740hrs, joins the guided busway at St Ives and terminates at Cambridge railway station.
Stagecoach decided to run the extra rush-hour buses to help cope with demand on the Busway. Controller Dave Oakerbee said Stagecoach would review passenger figures and consider running additional express services if demand is sufficient.
Stagecoach may introduce a new service linking Peterborough to Cambridge (also joining the busway at St Ives), should the board agree to purchase eight new vehicles.
Andy Campbell, managing director of Stagecoach Cambridgeshire, said: "We think people will commute by bus between Peterborough and Cambridge. We believe there is a market there as the train goes round the houses. Our service will also be cheaper than the trains. It seems to work from Huntingdon and the next logical place to go would be Peterborough."
The current adult train fare between Peterborough and Cambridge is £16 return.
Mr Campbell said if the Stagecoach board approves the plans, the service may start by the summer. He claimed, while there are no plans to lengthen the busway's track, developments such as these could result in the busway's infrastructure being extended beyond its current limits. However, physical extension of the busway is dependant on what happens with regards to RAF Alconbury's new enterprise zone.