FRANCE
The first BYD 13m pure electric coach assembled in Beauvais is on trial for the first time in France.
With the Region Hauts-de-France (Public transport authority) and operated by Transdev Hauts-de-France, the 100% electric vehicle is running twice a day on route 33E between Beauvais and Compiègne, through Clermont, on a route of around 120km return, a total of 24 km per day.
Franck Dhersin, Vice-President in charge of transport and transport infrastructure, Hauts-de-France region, said: "We are testing the 100% electric coach in rural areas to improve the air quality and the health of the people living there.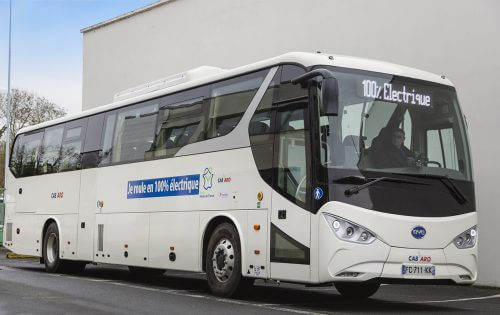 There is a political will to switch to green energy. If nothing changes it would end up costing the community much more in terms of the environment and health."
Amir Slimane, Director of CABARO, the local affiliate of Transdev, added: "This experiment is a real opportunity for the energy transition in this area, for the passengers to appreciate a new mobility solution and for our team to drive electric buses."
Isbrand Ho, Managing Director, BYD Europe and President, BYD France, said: "After delivering our first electric buses last December to Beauvais, Dunkirk and Orleans, BYD is proud to implement with Transdev this trial of our new electric coach.
It is an opportunity to give BYD some visibility on the road of the Hauts-de-France region."
For more international news click here:https://cbwmagazine.com/category/international/