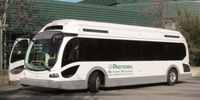 David Bennet brings wealth of experience to the manufacturer
USA Proterra, the US-based builder of zero-emission commercial transit solutions, announced at last week's 2011 American Public Transportation Association (APTA) EXPO it has appointed David Bennett as chief executive officer.
"The APTA show is a wonderful place to showcase our EcoRide bus, the battery electric bus which can charge in under 10 minutes," said Bennett. "Zero-emission transit solutions, like EcoRide, are receiving more and more attention as transit agencies across the country look for ways to lower operating costs. Proterra is poised to deliver unprecedented efficiency in the commercial transit arena, and I am thrilled to take leadership at a time like this."
Bennett brings significant experience in the power unit and vehicle industry, serving most recently as vice president of business development for the industrial sector for Eaton. He also spent time in other operational and corporate managerial roles with Honeywell and General Electric. He holds a bachelor's degree from Duke University and an MBA from Drexel University.
Proterra's EcoRide battery electric bus can charge in under 10 minutes, replacing conventional diesel buses on a one-for-one basis operating 24/7. When compared to traditional diesel buses used throughout the country, the EcoRide consistently performs with 600% better fuel efficiency – averaging more than 21 MPGe – when fully loaded with 64 passengers.
Proterra has recently signed an agreement with StarMetro in Tallahassee, Florida, to deliver three EcoRides and a charging station. The contract stems from a Federal Transit Administration (FTA) grant received by StarMetro to pursue fast-charge, electric transit buses and charging stations.
"StarMetro realises that the future of the commercial transit industry lies in zero-emission solutions, and they are on the leading edge by taking steps to future-proof their fleet," said David Bennett.
Six other major urban transit authorities received similar FTA grants. Foothill Transit in Pomona, California is already operating three EcoRide buses and VIA San Antonio Transit will be deploying its EcoRide buses later this year.
The four other authorities issuing requests for proposal are Regional Transportation Commission (RTC) in Reno, Nevada, King County Metro Transit in Seattle, Washington, Chicago Transit Authority and Fresno Area Express in Fresno, California.
In addition to its unmatched energy efficiency and overall cost savings, Proterra's clean transit solutions offer California transit authorities a way to address the Zero Emission Bus (Zbus) rule, which requires large California agencies to purchase 15% of their annual bus orders as zero-emission buses starting in 2012.
Proterra will manufacture the new orders at its current assembly line plant in Greenville, Southern Carolina.
Proterra and StarMetro plan to have the buses in service by the spring of 2012.