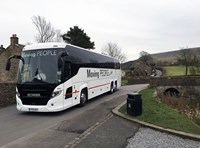 Operator impressed with the combination of 57 seats, washroom and generous legroom
Moving People Limited has acquired a 2015 Scania K 410 Touring HD coach, with a new vehicle to follow.
The current vehicle is equipped with 57 Kiel seats, a central washroom, alloy wheels, a full Bosch entertainment suite, the Scania OnBoard fleet management – for a period of 10 years, and comes with a 24-month repair and maintenance package included.
In addition to the current coach, the new build order on the way will feature a Frenzel kitchen unit, half leather seats, USB charging points to passenger seats, and a wheelchair lift.
Andy Parry, Operations Manager for Moving People, enthused: "We have always been impressed with the Scania product, and when we saw the Touring HD model we made contact to arrange a test drive and demonstration. Not only is the vehicle very striking, but offers a fantastic combination for us of 57 seats with washroom, very generous legroom and a great specification as standard.
"We've operated the vehicle for a few weeks now and have been so impressed by the complete package that we had no hesitation in placing an order for a new one to our specification for the end of the year. The whole process has been very pleasant, and dealing with Scania couldn't have been any easier. We're really looking forward to the new one arriving and so are our customers – whose feedback has been nothing but excellent so far."
Regional Account Manager for Scania (Great Britain) Limited, Jamie MacIntosh, commented: "It's great to see more Touring HD's going into Lancashire, and feedback has been exceptional on these vehicles. Moving People Limited has not made this decision lightly and I know they have spent considerable time considering various other products.
"The one-stop shop approach on all Scania coaches undoubtedly helps, with our extensive UK network being capable of looking after both the body and chassis components to maximise uptime for operators. With excellent fuel economy and high performance, the Euro 6 Scania products are proving themselves very quickly indeed."