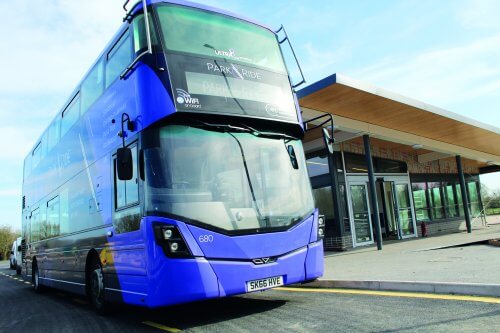 A raft of brand-new customer friendly facilities have been opened at Seacourt Park & Ride to help welcome people back onto services.
It includes toilets, an enclosed waiting area and digital information screens which provide real-time journey information.
The car park capacity has also been increased by 595 spaces taking the number of spaces for vehicles to more than 1,300. The improvements were made possible thanks to an investment by Oxford City Council.
Oxford Bus Company operates all Park & Ride bus services to the City Centre, which are designed to help reduce city centre emissions and congestion. Customers can benefit from joint parking and onward bus tickets.
Phil Southall, Oxford Bus Company Managing Director, said: "The new facilities are fantastic and will provide a first-class welcome to customers who travel via Seacourt Park & Ride. It brings the facilities and capacity at Seacourt in line with other Park & Ride locations such as Redbridge and Thornhill.
"It is great news that the facilities will be ready for 12 April as we all look to build back stronger together. Our thanks go to Oxford City Council for committing to investing in improving the gateway to Oxford.
"The facilities will provide longevity and a better overall service and customer experience. The increased car park capacity will also further help tackle city centre congestion, by improving the strength of the Park & Ride solution."
The Oxford Bus Company invested £4.5m in the fleet of Park & Ride buses in 2017. Each bus has free WiFi, audio visual next stop information systems, USB and conductive charging points and Euro VI micro-hybrid engines with the cleanest available vehicle emissions standards.
A further £1m was invested in rolling out contactless payment functionality to the fleet to make the boarding experience as frictionless as possible.
The other four Park & Ride locations in Oxford are Peartree, Oxford Parkway, Thornhill and Redbridge.