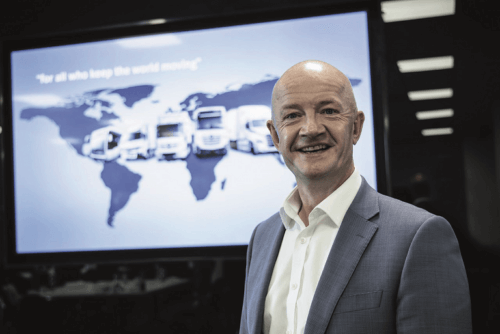 UK customers for Mercedes-Benz coaches and buses can now call on the support of a fully dedicated financial solutions partner following the launch of Daimler Truck Financial Services UK. By developing intelligent and sustainable solutions, Daimler says its new venture is set to play a key role in driving the take-up of alternatively-fuelled vehicles.
Daimler Truck Financial Services (DTFS) will offer a range of purchase and leasing solutions as well as insurance packages which it will be introducing next year, all of which can be tailored to meet the needs of commercial and passenger-carrying vehicle operators, the company says.
The new company is a fully integrated part of Daimler Truck, and prior to its UK launch was already doing business in 11 markets on six continents. Further expansion is planned this year in Turkey and Spain, and thereafter in Germany and France. With a global contract volume of €18 billion, the company says it is the road transport industry's largest captive financial services company.
Stephan Unger, Member of the Board of Management of Daimler Truck AG for Financial Services and CEO of Daimler Truck Financial Services, said: "We are very happy to welcome our new colleagues in the UK, which is an important market for us and plays a key role in our global strategy. All over the world we see growth opportunities for new finance products and service solutions to support the transfer to e-transportation or in connectivity services."
The launch follows the spin-off of Daimler Truck from its former parent company Daimler AG in December 2021, marking the dawn of a new era of entrepreneurial independence for the truck and bus business. Operators in the UK were previously served by Mercedes-Benz Financial Services, which continues to fund passenger cars and vans. Their agreements have now been transferred to DTFS on exactly the same terms as before.
The DTFS team in the UK is led by Managing Director Nick Andrews and shares its headquarters in Milton Keynes with Mercedes-Benz Trucks UK. Customers for new and used vehicles will be welcomed by their own personal finance specialists. "This is a tremendously exciting time to be launching our new business, not least because of the alternative fuels revolution now underway," continued Nick. "UK operators can already choose battery-electric rigid trucks such as the FUSO eCanter and Mercedes-Benz eActros.
"Other vehicles that produce zero tailpipe emissions such as the low-entry eEconic and the eCitaro are just around the corner, while customer testing of the eActros LongHaul tractor unit begins next year, and the first hydrogen fuel cell-powered Mercedes-Benz GenH2 Trucks will be on UK roads by the end of the decade.
"Transformative products like these require new and innovative approaches to the business of funding their acquisition and operation. We will support our customers on their journeys to a more sustainable, environmentally-friendly future, by offering leasing, financing and insurance products tailored to these new technologies."
Nick said DTFS is focused on serving business-to-business (B2B) customers and had adopted a structure that would allow rapid responses to changing market needs. "This is just the beginning, though, as our strategy is designed to deliver an integrated and sustainable solution for truck and bus operators across the UK," he added. "Like our colleagues at Mercedes-Benz Trucks UK and EvoBus UK, and those in their respective dealer networks, we already have vast experience and expertise in the commercial vehicle sector.
"We're committed to building lasting partnerships based on trust with customers, whether they be an owner-driver with a single vehicle or the CEO of a 'blue chip' fleet operator. And we'll do that by providing flexible and customer-centric financing, leasing and insurance solutions and services with predictable costs over the entire life-cycle of a vehicle."
He added: "Our customers know their businesses best. Our role is to tailor-make acquisition, insurance and other products that enable them to achieve their own financial and operational goals."
Heiko Selzam, Managing Director at Mercedes-Benz Trucks UK, commented: "The launch of Daimler Truck Financial Services UK comes at precisely the right time, as we transition to zero-emission trucks and prove ourselves as an independent, modern, collaborative company with ambitious growth targets and a clear focus on customer satisfaction. I am excited that we are now fully integrated, offering our customers everything they need under one roof, while being united as one team, with one focus. We put truck operators first, by offering them not only the best trucks in the world, but also the best services and the best way to fund them."