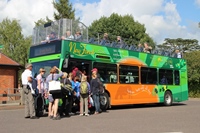 Morebus-operated service looking to build on 36,000 passengers carried last year
The New Forest Tour returned for the summer on June 25, operated by Go South Coast's Morebus.
Operated in partnership with the New Forest National Park Authority, the service carried nearly 36,000 passengers last year on its open-top double-deckers.
The tour offers an audio commentary about the area's culture and history, as well as discounts at attractions such as the National Motor Museum at Beaulieu, Exbury Gardens and New Forest Wildlife Park.
The New Forest Tour runs from June 25 to September 11, 2016. Tickets can be bought on board the bus, from the Lyndhurst Visitor Information Centre or the New Forest Travel Concierge at Brockenhurst Station.
Andrew Wickham, Managing Director of MoreBus, said: "We're delighted that the New Forest Tour continues to grow from strength to strength. Its three routes offer the best views of the National Park, linking countryside and coast, communities and attractions."
Mark Holroyd, Transport and Tourism Manager at the New Forest National Park Authority, said: 'The New Forest Tour was a great success last year, and I'm sure it will be another wonderful summer. As well as being a great experience, the Tour also helps protect the National Park's unique landscapes by reducing congestion and carbon emissions."
The New Forest Tour is sponsored by local businesses such as New Forest Cottages, and aims to encourage more people to leave their cars at home.
The tour stops at local cycle hire centres within the forest, with each vehicle able to carry up to four bikes.
As a new addition for 2016, family groups will receive a complimentary New Forest Tour Spotters Guide to help identify sights along the routes.