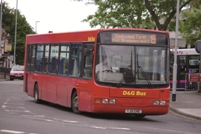 Staffordshire-based independent bus operator D&G Group has moved its headquarters into a renovated former pub.
The Wellington is a building of some historic significance and has been a Public House from the early 19th Century. Originally known as the Duke Wellington back in 1818, it was sold to the Uttoxeter and Dove Valley Brewery Co Ltd in the 1840s and known as The Wellington from 1896. In 2006, a fire caused substantial damage to the building and it has stood empty and decrepit since then.
D&G Bus has taken up residence in the top floor, with lower two floors still available for rent by third parties.
D&G MD David Reeves, who has acquired and renovated the building, said: "I came to a football meeting held in The Wellington around 1984, and I often used to pop in for a drink, and when many years later an opportunity came to invest in The Wellington, I thought, why not?
"We've retained character features of the building but it is equipped with all modern conveniences with brand new electrics and a brand new heating system. We're very pleased with the finished building. It took about six months in total, as it's a Grade II listed property."
The operating centres for D&G bus and Green Triangle remain at Crewe and Atherton, respectively – Uttoxeter performs the vital head office functions.
In a separate development, from July 15, the flexible transport service in Cheshire East will be operated by D&G Bus.
"It's a very exciting opportunity for us," Mr Reeves told CBW. "In the past local authorities have used Section 19 operators but they now want to raise the bar by using PCV operators, who have more consistent maintenance systems and higher qualified drivers.
"We've been trying to break into this type of work for the last two years. It means our Crewe operation is now even more sustainable."
D&G's new address is: The Wellington, 78 High Street, Uttoxeter, Staffordshire, ST14 7JD. Visit dgbus.co.uk