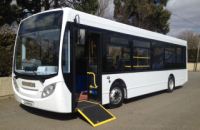 Cannon Specialist Vehicles is poised to launch its first ever fully integrated city bus, the Cannon 150BEL.
Traditionally a bus chassis manufacturer, Company Director William Cannon said he was compelled to develop his own body to build upon his innovative, fullygalvanised low-floor bus chassis.
Mr Cannon said he was dismayed to find most independent body builders had been forced out of the market by the bigger players who were positioned to develop both chassis and bodies and had been unable to convince the larger body building companies to accept a donor chassis in order to develop a new city bus. With that, and armed with 20 years chassis-building experience, Mr Cannon has made his first foray into body building.
Cannon SV plans to target small to medium operators and seeks to concentrate on their requirements by delivering bespoke builds. Cannon SV will provide aftersales and technical support for the bus chassis and body and will effectively constitute a "one-stop shop" for the small operator.
Cannon SV promises excellence in customer service by providing immediate supply of spare parts, which are shared with other manufacturers and will be in a position to supply parts for competitors' vehicles.
The company is now in the preliminary stages of developing a 2.3m wide bus for the niche operator in the Channel Islands and subsequently in the UK and Ireland markets.
CANNON 150BEL SPECIFICATION
Vehicle Dimensions and Weights
Width: 2.444m
Wheelbase: 4.4m
Overall length: 9.475m, with optional Lengths: 8.9m, 10.2m, 10.8
Seating: 32 seats & wheelchair
Front axle design weight: 5000kgs
Rear axle: 8,250kg
Gross Weight: 12,150kgs
Driveline
Engine: Cummins ISBE 4 cylinder 4.5 litre Euro 5 160bhp at 2500 rpm
Transmission: Allison 2100, 4-5 speed with Telma retarder
Steering: ZF 8095 steering column, air-release/ lock
Chassis Frame: All welded, hot-dipped galvanised box and flat high grade steel, lifetime warranty against corrosion
Fuel Tank: Aluminium 220 litre fast-fill anti-foaming system
Ad blue 22l stainless steel tank.