The 10.5m double-decker has been tweaked with weight reduction and efficiency in mind
A specially customised Euro VI Wrightbus StreetDeck has been showcased in Santiago, Chile.
Launched in the new Santiago Transportation livery, the bus has had several new and unique features engineered beneath the skin to make it suitable for the terrain in Chile and to meet the customer's desire for weight reduction and efficiency within a high capacity vehicle.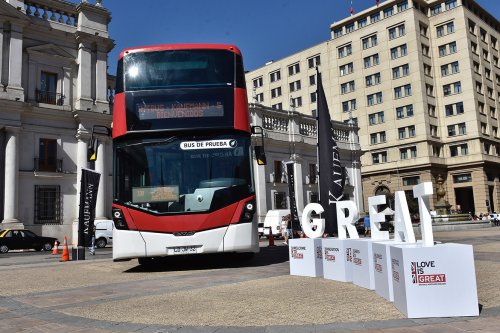 The vehicle was officially unveiled by Gloria Hutt, Minister for Transport and Telecommunications on Plaza Consitucion, directly in front of the Presidential Palace and entered service on 1 March with buses Vule s.a. on route i 09 between Rinconada de Maipú and ULA Metro station for the period of one month.
This is the latest example of Wrightbus taking the lead in the development of a passenger transport vehicle.
The bus features 63-seats and a 10.5-metre length with capacity for 39 standees – comparing capacity and vehicle size with that currently on the roads of Chile, the Wrightbus vehicle will take up 20% less road space.
Set against a backdrop of increasing concerns in society about pollution and its implications on health and global warming, the Daimler VI engine with Microhybrid technology also offers great improvement on the city's predominantly Euro II and Euro III bus fleets.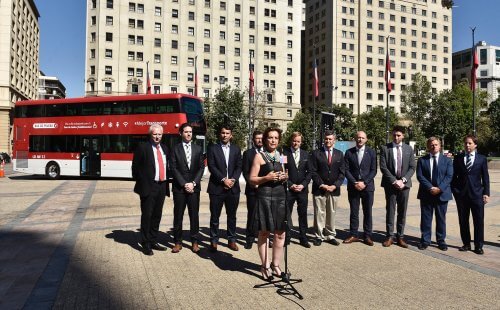 The vehicle also hosts a multitude of 'smart' technology, to provide a safe and comfortable travel experience for both driver and passengers e.g. a Mobileye pedestrian detection system, USB points on seatbacks, real time audio-visual passenger information, a 14 camera CCTV system and upper deck workplace tables all add to the offering, as does a highly efficient 35kw passenger air-conditioning system.
Speaking at the event, Group Business and Product Development Director John McLeister, said: "This is a hugely important development for Wrights Group and our long-term commitment to develop commercially viable buses, tailored to meet global customer requirements.
We will naturally be evaluating the in-territory trial results closely, and we are excited and confident that this vehicle will place us as strong contenders for any future city bus tenders in this region."