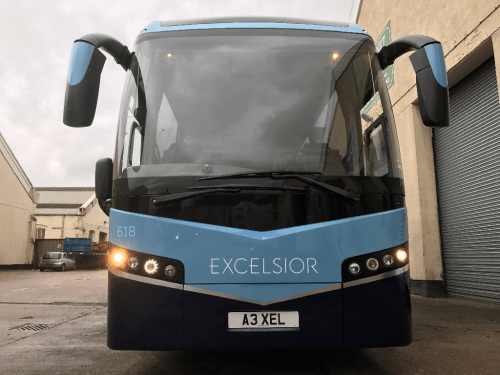 Excelsior Coaches has kick-started 2017 with a new brand, logo and livery which has been applied to the first of its 16 coaches.
The first vehicle was completed over Christmas, with the remaining 15 being gradually updated one at a time over the next few months to ensure that operations are not disrupted.
As reported in CBW at the time, the Bournemouth-based coach operator was acquired by Go South Coast in October 2016 following the retirement of former owner Ken Robins.
The move from Excelsior's familiar beige livery to the two-tone blue was one of five different drafts designed by Ray Stenning of Best Impressions. The blue was chosen for its striking appearance, with the metallic strip matching the curve of the Jonckheere's bodywork.
Asked about the background to the new livery, Adam Keen, Area Manager for Morebus, Excelsior and Damory, told CBW: "In addition to the move from beige to blue, a more art-deco style logo has been designed which matches Bournemouth's heritage.
"Another new feature is the location of Excelsior Coaches written in red on the side and back of each vehicle, which the old livery did not have. Eastleigh-based Hants & Dorset Trim did a top job on applying the new livery.
"Positive feedback has been received from customers, enthusiasts and drivers from other operators with one commenting the new livery was a 'refreshing change.' Customers were spoken to before the design process with the majority wanting a different colour to the coaches, which we listened to."
Turning to the future, Adam said: "Excelsior has traditionally operated high-quality private work, day trips, holidays and tours.
"The future for modern Excelsior is very much aimed at the higher end of the coaching market, with emphasis to be placed on quality and service for the more discerning customer. We have taken the decision not to continue operating overseas, but to concentrate on high-quality UK work."