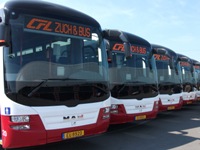 Luxembourg MAN has delivered 10 Lion's Regio C intercity buses to the Luxembourg railway company "Société Nationale des Chemins de Fer Luxembourgeois" (CFL).
The vehicles will be deployed on regular intercity service in Luxembourg and replace an MAN fleet operated by CFL since 2005.
With a length of around 13m, the MAN Lion's Regio C buses have seating for 53 passengers. Thanks to a floor height of 860mm a vehicle height of 3.40m, the high-floor bus can also be used for short tours on weekends. The high level of passenger comfort and the good price-performance ratio were decisive factors for CFL in selecting MAN's tender. The total market in Luxembourg for buses in this segment is around 80 vehicles per annum.
Equipped with the electronically controlled 'CRTec' particulate filter, MAN's horizontally installed 320bhp D20 common-rail engines meet the EEV standard.
The Luxembourg railway company CFL was founded in 1946 and is responsible for the organisation of national and international passenger and goods transport by rail and by road. CFL has a workforce of over 4,000 people and in 2012 transported around 20 million passengers.