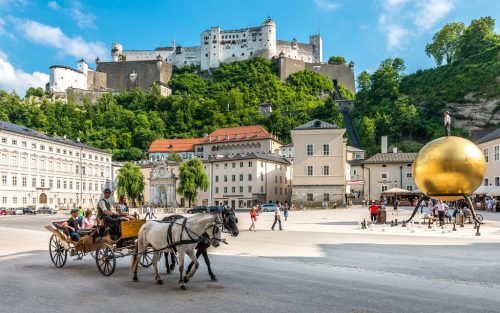 From June this year, coaches visiting the popular Austrian city of Salzburg will have to pre-book their drop-off and pick-up times using a new online booking system.
The City of Salzburg said it is reacting to the strong growth in the tour coach sector. In order to optimise the related effects on waiting times as well as drop-off and pick-up opportunities at the coach terminals, tourism organisation Tourismus Salzburg GmbH will be introducing an online booking system for tour coaches beginning in April 2018, which will come into effect on June 1. Access to the Nonntal terminal will continue to be possible free of charge in April and May, while the terminal in Paris-Lodron-Straße will remain closed until June due to remodelling.
Coach operators must register on the new portal prior to submitting their inaugural booking. The bookings themselves must be made using the customer web portal. In doing so, the following conditions will apply:
Bookings are possible immediately before arrival, subject to availability.
A 20-minute time slot must be booked both for drop-off and pick-up of passengers.
During a single booking process, it is possible to reserve several different times for a single bus or set up times for several buses (as many as three) simultaneously.
Drop-off and pick-up must be booked for the same day. If passengers are to be picked up on a different day, a separate booking needs to be made.
It is possible to select different terminals for drop-off and pick-up, subject to availability.
Payment is accepted exclusively by credit card.
After the booking has been completed successfully, all documentation will be sent automatically by email (invoice, terminal voucher, parking voucher).
In terms of procedures at the terminal and coach parking area, on-site staff will scan the terminal voucher in order to validate it prior to drop-off and pick-up at the terminal. The coach driver may present the printed voucher or a digital version by means of smartphone. Coaches which arrive late due to circumstances beyond their control such as traffic jams or bad weather may still pull into the terminals. If required, it may be necessary to circle around one or more times until a space at the terminal becomes available. The parking voucher must be scanned at the gate to the parking area and is then replaced by a standard ticket. This ticket contains complete data and authorisations (period of validity, multiple exit and entrance).
The cost is €24 and entitles the coach to one-time use of the terminal (drop-off and pick-up) on the same day. In addition, parking in the coach parking area 'Busparkplatz Süd' or 'Nord' is included for the duration of the visit to Salzburg (maximum three days). Free cancellation is possible up to two weeks prior to arrival. Notification must be provided using the customer web portal. Cancellations received later than this will be subject to a 100% cancellation fee.
For details, visit www.salzburg.info. Email [email protected]