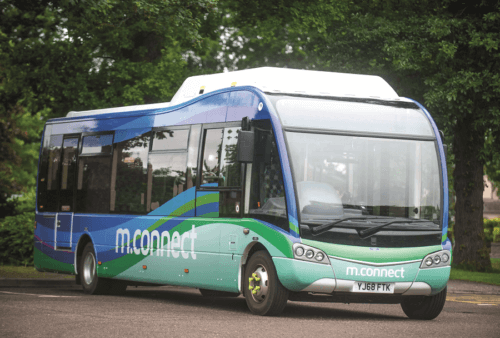 Two electric buses will be purchased at a cost of over £560,000 as part of new Moray Growth Deal plans. The £100 million Moray deal has set aside £4 million for a 'bus revolution' project which aims to increase numbers of people using public transport in the area. Moray Council has already awarded a contract to Crawley-based EVM Direct to supply the buses, which will be used on a new door-to-door service. The new route is intended to enhance existing provision in the Buckie, Elgin, Forres Keith and Speyside areas and will allow people to book a journey up to four weeks in advance or no later than 1500hrs the day before.
Moray Council's wider 'Bus Revolution' project was instigated in early 2022 to increase the fleet of vehicles to enable bus services to operate an on demand service from 0400hrs to midnight on Mondays to Saturdays and from 0700 to 2200 on Sundays for anyone travelling to or from the Moray area. The new services were planned to be developed in phases with growth deal funding enabling service development plus expansion and upgrading of the fleet quality in line with the brand development and including consideration of facilities such as on-board WiFi.
The council's long-term plans involve provision of a flexible and easy to use demand responsive service including innovation to create app-based technology that will allow real-time journey bookings in what it describes as an 'Uber-style' system. It plans to embrace low-carbon technology, preferably with fully electric vehicles, to provide an environmentally-sustainable service which build on its existing Dial M brand identity to create what the plan describes as an engaging and responsive public transport network for all customer groups, helped by intelligence-led marketing to generate business and communicate with customers
Customer service will also be key to its plans, and it recognises that it must retain its current customer base which has a large proportion of elderly customers, many of whom prefer to book by telephone, alongside targeting the younger and working populations of Moray to offer them a genuine rural alternative to private car use and increase the number of passengers using local buses. The project benefits from joint funding of £4m from the Scottish Government and £0.3m from Moray Council.