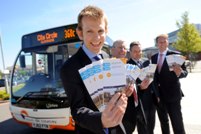 Coventry's Travel de Courcey has deposed neighbouring Birmingham for the title of Europe's longest continuous urban bus route
With the introduction of the new 360 service, Coventry is now home to Europe's longest continuous urban bus route. The service, launched by Centro and operated by Coventry-based Travel de Courcey, is a total of 31.5 miles long, nearly six miles longer than the famous 11A/C Outer Circle route in Birmingham which held the title since 1926.
The 360 is operated by dedicated Optare Versas and runs via the hospital at Walsgrave, Willenhall, Jaguar Land Rover in Whitley, the University of Warwick in Cannon Park, Tile Hill railway station, Whoberley, Whitmore Park, the Ricoh Arena in Rowleys Green and Arena Shopping Park. The new service began Sunday June 9 and runs up to two buses an hour seven days a week, including evenings and bank holidays.
It incorporates the current services 701 and 801, which have been withdrawn, and part of the current 703 and 704 routes. The 703 route remains in operation.
Cllr John McNicholas, the Chairman of Centro, said the record-breaking route was a result of customer feedback during a review of bus services last year.
He said: "The review showed there was a need for a bus service linking key areas of Coventry together yet without the need to travel into the city centre.
"Important destinations such as the hospital, the university and Jaguar Land Rover now have a direct link which will enable people to reach them with the minimum of inconvenience."
Adrian de Courcey, Director of Travel de Courcey, said: "As a Coventry business we take considerable pride in knowing that not only are we operating such an important service but one which also puts the city on the map."
Andy Hardy, CEO of University Hospitals Coventry and Warwickshire NHS Trust, added: "This service is good news for the people of Coventry who rely on the bus to get here. It removes the inconvenience of having to travel into the city centre, change services and catch a connection, and we welcome its introduction."