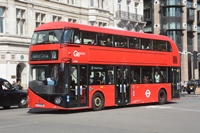 New Routemaster buses in London will be retrofitted with opening windows to prevent passengers overheating at a reported cost of £2m.
Transport for London confirmed that the buses would be refitted with new windows on the top decks after passenger concerns.
There are 550 of the buses operating in London currently. A further 250 which are on order will also have the new windows fitted.
TfL's Director of Buses, Mike Weston, said: "We were aware of passenger concerns about the cooling system on the New Routemaster and the Mayor asked us to work with Wrights to look at possible design options to improve passenger comfort.
"We're pleased they've now been able to come up with an affordable and working design to install opening windows, which we anticipate will have been installed across our entire fleet by next summer."
Writing in The Londoner, Managing Director, Surface Transport, Leon Daniels said that a shorter version of the New Routemaster with higher capacity was underdevelopment. Prototypes are in preparation and advanced discussions have taken place about a further development of the type.
He also said that a further five all electric double-deckers are due to follow the BYD K10 which is expected to make its public debut at Busworld, Kortrijk next month.