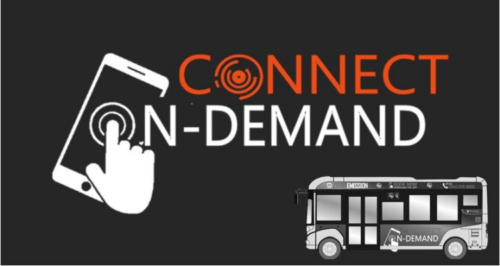 Shropshire's first zero-emission bus will make its debut on a new demand responsive service in the county
A new pilot on-demand bus service is to begin operating in an area to the south-west of Shrewsbury this autumn, with plans in place to roll the service out across the county as part of Shropshire Council's commitment to reinvigorate public transport in the area. Operated by Shropshire Council, the new Connect On-Demand service will replace the under threat bus routes from Shrewsbury to Radbrook, Lyth Hill and Pulverbatch, which are fully funded by the council but have, the council says, over a period of time seen a reduction in passengers.
The new service will operate from 0730 to 1830hrs Monday to Saturday from September, with users able to book via app or by phone. It will pick-up and drop-off at locations within a defined zone including Radbrook shopping centre, Meole Brace retail park, and local doctors' surgeries, with additional drop-off and pick up points at Shrewsbury's bus and railway stations.
A Mellor Sigma 7 electric bus will operate the service in urban areas, expected to be the first fully electric bus operating in Shropshire, while smaller diesel vehicles are set to operate in more rural areas where they will be better able to navigate lanes and roads less suited for larger buses. A DRT team leader will shortly be recruited to help launch and operate the service, with driver recruitment following in the summer.
Subject to funding, the council hopes to introduce a similar service in and around the county's 17 market towns, enabling people to access services locally or to connect with bus or rail for onwards travel – and to access the wider regional and national transport network. Ian Nellins, Shropshire Council's Cabinet member with responsibility for public transport, said: "For many residents in Shropshire's vast rural areas there are no local transport services to get them to work, leisure activities, medical appointments or college. This new service strives to change that and provide a crucial link for residents requiring affordable access to essential services.
"Connect On-Demand works in areas not supported by sufficient local bus services, providing people with essential transport to their nearest market town and links to existing local bus/rail services for onwards travel. For our pilot study we have selected an area south of Shrewsbury which currently has three fully subsidised services funded by Shropshire Council. These services have been identified as poorly used and – due to increased requirements for additional funding – have now become untenable. Through our discussions it has become clear that the area around and including these services would benefit greatly from a demand responsive model.
"Under the Shropshire Connect banner we plan to reinvigorate public transport in Shropshire, moving to a fully integrated network of buses and trains which give people attractive and affordable alternatives, giving flexibility and improved access for people without cars, and a genuine choice for people with cars."
Connect On-Demand is the first aspect of Shropshire Connect, and will be followed by Shrewsbury Connect, a 'reimagined' Shrewsbury park & ride service offering connectivity to a number of key strategic sites across the town.