Digital bus stops using e-paper technology support Australia's first automated passenger vehicle trial
AUSTRALIA
Australia's first regional trial of an automated passenger vehicle has started at Coffs Harbour's Northern Breakwall.
The Coffs Harbour BusBot Trial is a NSW Government initiative, being led in partnership between Transport for NSW, local bus operator Busways, Coffs Harbour City Council and vehicle manufacturer EasyMile.
Papercast's real-time passenger information solution has been incorporated into the trial. Passengers benefit from live information at bus stops thanks to the supplier's solar-powered e-paper displays with BetterETA technology.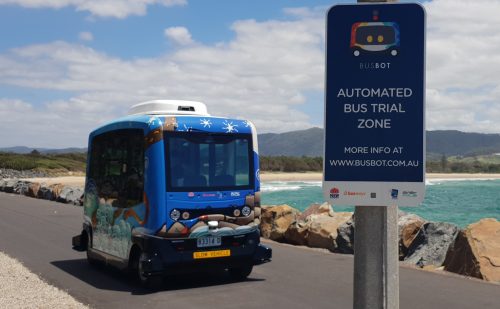 Busways' Special Project Manager Timothy J Reid said: "Not only does Papercast align with the forward-looking nature of this project, but it gives us the opportunity to connect with our customers in new and exciting ways.
The technology allows us to improve the customer experience with real-time communication, add value at our bus stops and improve the success of the overall BusBot trial.
Papercast is an essential partner of the trial and we will continue to test Papercast in new ways throughout the duration of the project."
Papercast's digital bus stops use e-paper technology which delivers high-quality screen visibility and with low power consumption, the displays can be entirely solar-powered.
With wireless connectivity, the units can be installed anywhere within an hour – no power or connectivity cables are required.
The displays are controlled remotely by Papercast's cloud-based content management system, and live BusBot arrival times are generated by BetterETA data feed.
The technology adjusts CAD/AVL data in real-time to improve the accuracy of arrival.
The technology provides BusBot controllers with a platform for direct real-time communication with customers at the bus stop. The screens show live arrival times as well as information about the route, the driverless vehicles and the overall trial.
The controller can reassure customers in real-time, show additional service information and dynamically push notifications to a route or area.
The displays also come with a text to speech function, so with a push of a button it will announce the next service to arrive at the stop.
Papercast was launched in March 2016 after comprehensive field testing.
Now deployed in over 50 locations worldwide, the technology is under continual development and is claimed to be the most advanced technology of its kind on the market.
For more international news click here:https://cbwmagazine.com/category/international/