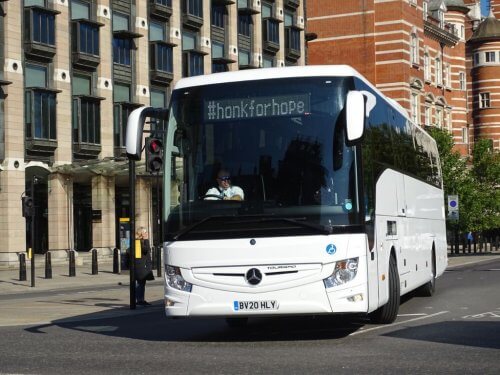 Daimler has announced a new evolution of its Mercedes-Benz Tourismo coach range with the introduction of a new specification. Responding to the changing landscape of the coach industry, EvoBus has reacted by launching an entry-level full PSVAR-specification coach specifically for the UK market, which joins the current specification range of: Travel, Touring and Touring Plus.
Designed for multi-purpose applications, at 12 metres in length the new model is an all-rounder with 53 TSE seats and a centre toilet, making it suitable for rail replacement or home-to-school transport as well as private hire and touring. Standard features include the Mercedes-Benz OM 936, 260kW Euro VI engine with Powershift gearbox, full DDA/PSVAR specification, three-point seatbelts and USB charging points.
Jonathan Prime, Director Mercedes-Benz Sales, added: "We appreciate the devastating effect the pandemic has had on the industry and many of our customers. Having listened to their feedback, we wanted to build upon the successful Tourismo product line-up to offer an entry-model with full DDA specification at a brand new price point. The new model complements the existing range meaning we are able to meet customers' requirements for a multipurpose flexible solution."
The new model is available to order for the summer season. A complete breakdown of the standard specification is available upon request from [email protected]. The Tourismo range has a 24-month complete warranty with European-wide breakdown assistance as standard.