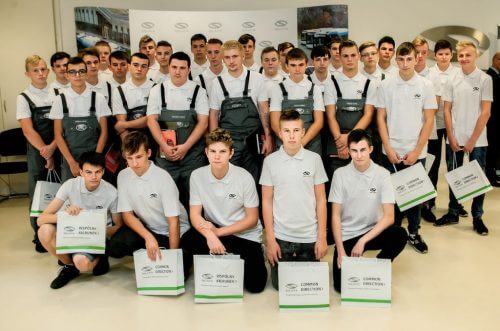 For the thirteenth time, Polish manufacturer Solaris has inaugurated the new school year for a company-sponsored class of apprentices in association with vocational school Branżowa Szkoła I Stopnia in Murowana Goślina and the Jan Henryk Dąbrowski agricultural school Zespół Szkół Rolniczych in Środa Wielkopolska. In this school year, a total of 24 students have joined the programme, which provides training in two disciplines: 14 of the apprentices are training as mechatronics technicians, whilst the remaining 10 are training as locksmiths. Besides regular school classes, the apprentices will take part in practical classes at the Solaris factory in Bolechewo. The best performers will be offered full time employment with Solaris, as have the ones who graduated the three-year programme this year.
The cooperation between Solaris and the vocational school in Murowana Goślina started in 2007. Since then, over 150 pupils, both male and female, have participated in the sponsored class programme. In 2012, the factory in Środa Wielkopolska also joined the scheme; here pupils are training to work as locksmiths, but can also obtain a welding licence. Additionally, this year Solaris has launched a programme aimed at opening a sponsored class for electronics technicians at the Mikołaj Kopernik School for Communications in Poznań. Solaris said its sponsored class programme has met with a lot of interest of pupils right from the start.
"We are proud to say that our sponsored class programme has received a lot of positive feedback in those 13 years and keeps attracting new beneficiaries. As the biggest electric bus manufacturer in Europe – and thus one of the biggest employers in the region – Solaris is well aware how significant vocational training and the obtaining of competencies on the job market right from the start is," said Dariusz Michalak, Deputy CEO of Solaris Bus & Coach.