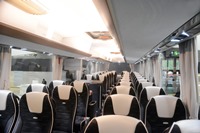 UK launch for new coach planned for UK Coach Rally with first production availability from July 2017
MAN unveiled a new Neoplan Tourliner at IAA, Hanover. The coach, which is 0.1m longer than its predecessor is due to go into production in right hand-drive during April 2017 with UK available as a tri-axle from July, the two axle variant being introduced from September.
MAN Truck & Bus UK Senior Retail Coach Sales Executive, Matthew Jacob explained that the right hand-drive 13.9m prototype had just gone into production and it was hoped that it would be ready for launch at the UK Coach Rally in Blackpool next spring. A key feature of the new design is that it has a flat saloon floor and that initial vehicle is being built with a wheelchair lift and two spaces created by pushing together up to six rows of seats. The underfloor luggage area is 18cm longer delivering around half a cubic metre of extra capacity.
Not only does the new Tourliner have sharper looks, aerodynamics has been increased by more than 20%. Redesigned exterior mirrors have reduced wind resistance while the front access panels include folding out corner sections that make it easier to change light bulbs. Headlights have been upgraded with daylight running lights that form an illuminated ring around the low-beam light. A rear engine flap in GRP rather than steel makes a 15kg contribution towards an overall 60kg weight saving.
"The new exterior look brings the coach in line with the rest of the Neoplan range whether it's the Cityliner, Skyliner and Jetliner," said Matthew. "Although it's still a full climate control system in the saloon, new luggage racks have individual adjustable nozzles that passengers can direct. That's new to Neoplan."
Cab controls have been rearranged to improve user ergonomics. Both Multi Media Coach Basic and Advanced versions are available and new features include voice input and the option to co connect up to two smart phones at once.
Continued Matthew: "Power comes from a Euro 6c D26 engine that will be available at 420hp in the two-axle and 460hp in the tri-axle driving through an MAN TipMatic gearbox which has been has also been upgraded. The 'c' indicates increased monitoring and there's also a different water pump."
A long final drive ratio of i=2.73 is also being introduced and all these changes contribute to delivering an up to 10% improvement in fuel economy compared to the current Tourliner. These driveline enhancements are going into new build now so they will benefit the current model as well.
"We've just placed a stock build for 40 Tourliners that will be a mix of all three lengths available – 12m, 13.26m and 13.8m," said Matthew. "Our Select brand is the value for money option while the fully loaded luxury specification is VIP. We continue to give the current model 100% support and extra packages will be available. I think we'll sell 65 this year – up on 2015."
Matt explained that a successor to Paul Gardner who was MAN Truck & Bus UK General Manager, but who has now joined Minis to Midis, has been appointed and an announcement will be made soon. "We're still focussed on both bus and coach," he said. "The CNG bus is still available and we're negotiating on a couple of tenders at the moment.
"The new TGE van is managed by (Project Manager) Andrew Taylor and (Head of Van), Stuart Beeton, and we're already talking together on what we're going to do on the bus and coach side. We're looking into opportunities both as a conversion and coachbuilt."