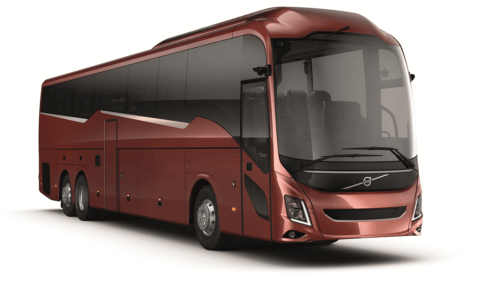 Volvo's premium touring coach, the 9900, is to be refreshed with the manufacturer's new coach platform and an updated 13-litre engine
Volvo Buses is launching a new fuel-saving platform for both its own premium coach range and for chassis customers. With power ratings up to 500hp and promised fuel savings of up to 9%, the manufacturer hailed the new platform as 'a true cost saver for tour, charter and line-haul operations.'
The new coach platform will come as the Volvo 9000 range in Europe, the Volvo 9800 for Mexico and as the Volvo B13R for chassis markets. "With this introduction of a new coach platform we are taking yet another important step to providing sustainable people transport solutions," said Anna Westerberg, President of Volvo Buses. "It's a global offer to operators of premium coach services with comprehensive scope for adapting to market needs.
"The new platform will reduce fuel consumption and therefore also total emissions. The Volvo Group has a clear vision and a firm commitment on sustainability. Our roadmap towards zero emissions includes not only today's electric vehicles; the new coach platform also offers the benefits of alternative fuels and substantial efficiency improvements for long-distance operations."
Versions with two-or three axle configurations will be available in various markets, with power ratings spanning from 380hp to 500hp. All will be certified for HVO fuels, while the 460hp and 500hp versions are also certified for biodiesel. To complete the range is a low-entry configuration, ideal for double decker coaches.
The core of the new platform is a new Euro VI version of Volvo's familiar 13-litre engine. "We see the entire driveline as a winning concept," said Mattias Forssén, Global Product Director at Volvo Buses. "One of the cornerstones is the unique new cooling system, while the new version of Volvo I-Shift together with the new engine enables us to further reduce engine speed."
The cooling system is a new design, split into two autonomous sections, both operated by energy-efficient electric fans. Mattias explained: "The beauty of it is that we don't just save fuel with this set-up – we can also maintain an extremely even temperature in the engine compartment. This makes it possible for us to extend service intervals, which in turn further enhances operational uptime."
On the inside the driver will find an all-new 'dynamic dashboard.' "We have also updated the steering wheel," added Mattias. "The neck tilt makes entry and exit easier for the driver, and the wheel now includes functions for media operation and cruise control."
For driver and passenger comfort, the suspension and engine mountings have been updated to give reduced vibrations and interior noise as well as a smoother ride.