Newbury & District is set for its first operational changes since it was acquired by Reading Buses last September.
The changes, which come into effect on Tuesday 23 April, are as follows:
New timetables for routes 1a and 1c to coordinate them with Reading Buses' Jet Black 1, providing a combined 15 minute frequency between Newbury Wharf and Thatcham Broadway via West Berkshire Community Hospital;
Routes 1b and 1d will be withdrawn as they will be covered by the 1, 1a and 1c;
Minor changes to Newbury & District's route 103 timetable;
Newbury & District Routes 123 and 124 will no longer run as Kennections, a Reading Buses brand, already serve those areas;Newbury & District fares will be brought into line with Reading Buses' and Kennections' in Newbury and Thatcham;
All Newbury & District routes (1a, 1c and 103) will become part of the Reading Buses 'simplyNewbury & Thatcham' area.
This means customers will be able to buy smartcards online or from the Reading bus shop as well as mobile tickets from the Kennections app, and use them on both Reading Buses and Newbury & District services in the area;
Newbury & District will introduce Reading Buses' Boost scheme to allow more young people to access cheaper fares;
The current offer of free travel to concessionary pass holders on Newbury & District services (and 50p on Jet Black) before 0930hrs on weekdays will be replaced by a new special £1 single fare for concessionary pass holders.
This will also be introduced on all Kennections services in the Newbury & Thatcham area for the first time.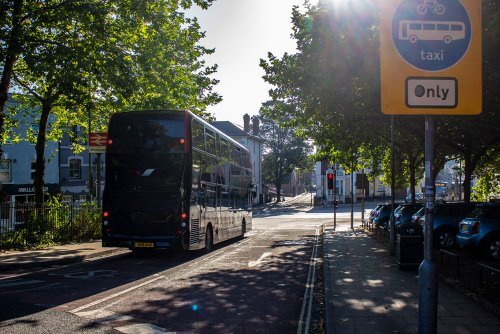 Reading Buses Chief Executive Officer, Robert Williams, explained that the two operators have been reviewing how they can work closer together and maximise the benefit of being under the same ownership.
"By making these changes, we can consolidate all our operations in the area and provide an integrated network that is financially sustainable for the long term future," he said.
Reading Buses has also helped Newbury & District upgrade its ticket machines to allow contactless and mobile ticket payments to be introduced.
"Contactless payment is a huge bonus for many customers who aren't sure of their bus fare or have not had the opportunity to get cash," continued Robert.
"So we are really proud to be able to offer this facility to Newbury & District customers for the first time.
"We are also bringing Newbury & District services into the Kennections app, meaning customers can buy their simplyNewbury & Thatcham products on their phone and scan them when they board."
You can read more Bus News here: cbwmagazine.com/category/news/buses