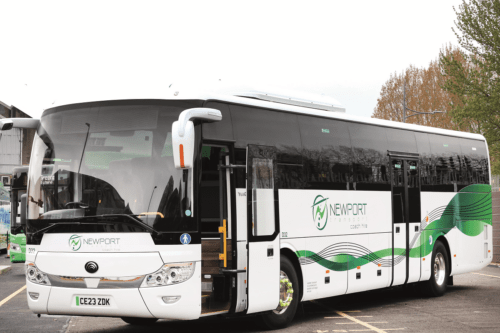 The municipal coach and bus operator continues to electrify its fleet with Yutong products, this time turning its attention to the TCe12 coach
Newport Transport has introduced four new fully electric coaches to its coach division fleet to provide environmentally friendly travel options for its private hire, day trip and south-east Wales schools work. The four new zero-emission Yutong TCe12 coaches are among the first in Wales to take to the roads, and can carry up to 46 passengers. A centre door and lowered floor section allow for wheelchair access. They also feature on-board toilets, air-conditioning, and individual USB sockets.
Managing Director at Newport Transport Scott Pearson said: "Our EV fleet is already leading the way in Wales, bringing improvement to air quality across the city and surrounding areas. With the introduction of electric coaches to our fleet, we continue to show our commitment to providing innovative, environmentally sustainable transport solutions for South Wales. We are excited for further collaboration with the teams at Pelican Engineering/Yutong UK and Zenobe as we work towards our vision of a net zero fleet."
Head of Yutong at Pelican Ian Downie, commented: "We are delighted that our ongoing partnership with Newport Transport has resulted in the first order for a zero-emission coach in Wales. The feedback from their customers, including school children, is how smooth, quiet, and, more importantly, environmentally friendly these new vehicles are. Newport Transport was the first customer of Pelican in the UK, and these are the fourth tranche of vehicles delivered into Newport, and the relationship continues to prosper for the benefit of Newport's population."
Fleet and battery storage specialist Zenobē has also supported the delivery of the four fully electric e-coaches for Newport Transport's expanding fleet. Co-founder and Director Steven Meersman said: "Our financing solutions are supporting the introduction of four fully electric coaches into Newport Transport's fleet. This is enabling them to continue their ongoing transition to electric vehicles without the associated upfront costs and more importantly, without delay.
"This new investment was made possible through a vehicle and battery financing solution which will guarantee the health and performance of each on-board battery for the next 16 years, ensuring they meet the route's mileage requirements. The e-coaches will also benefit from the smart charging infrastructure we already operate and maintain within Newport Transport's depot for its growing fleet of electric buses. This is another exciting milestone in the electrification of transport in Wales, which we continue to support."