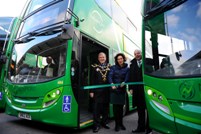 Buses launched as part of a £1.3m investment and will hit the roads next week
Newport Transport launched five brand new ADL Enviro 400 doubledeck buses as part of a £1.3m fleet investment at Chepstow Racecourse last Wednesday (November 28). The launch showcased all five of the new vehicles and was a preview for the public transport industry before the buses are introduced on the road next week.
As well as E-leather seats, seat belts and tables on the upper deck these buses all feature audio & visual destination announcement technology. It is hoped this technology will not only be a helpful tool for those with a visual or hearing impairment, but provide a benefit for those who are not familiar with the city or its bus routes.
At the launch, Newport Transport was complimented by Andrea Gordon from Guide Dogs for the Blind and Bus Users UKs chairman Gillian Merron on being the first bus operator in Wales to officially make the commitment to provide all new buses with this technology and its dedication to helping those with visual impairments be part of the community by being able to use public transport independently.
Scott Pearson, Managing Director at Newport Transport said: "At Newport Transport we understand that our role as regional transport provider means making our services accessible to anyone who needs them, which naturally includes anyone with a visual or hearing impairment. We are very pleased to be able to say that we are contributing to making life that much easier for those who benefit from audio & visual destination announcements and are looking forward to continuing this work in the future."
Carl Watkins Sales Manager at E-leather, who was present at the launch, told CBW: "We've been working with Scott Pearson and Engineering Director Carl Yeaman to develop a seat design especially for Newport. The seats have a practical high back and are all embossed with the Newport Bus logo. Hopefully they can now carry on with this and use the seats as standard across the fleet."