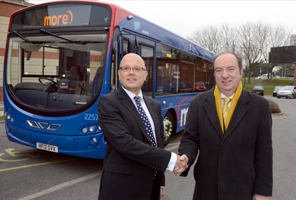 Norman Baker, the Parliamentary Under Secretary for the Department of Transport was key speaker at a Conference for local authority and regional transport officials held by Go-Ahead Group subsidiary Go South Coast. Andrew Wickham, Managing Director of the group which includes more, Wilts & Dorset, Bluestar, Damory and Southern Vectis bus companies, welcomed Norman Baker at the Southampton venue.
In his speech, the Transport Minister emphasised the important role the bus industry will play in both the environment and economy and how funding initiatives that are underway will support projects across the UK, therefore encouraging even greater co-operation between authorities and bus operators. He praised the Go-Ahead Group for often being the first to introduce new technology to benefit bus users and for its influential interest in greener technology research for future bus fleets.
Other speakers at the Go South Coast conference included Miles Butler, Director for the Environment at Dorset County Council and national president ADEPT (Association of Directors Environment, Economy Planning and Transport), David Sidebottom, Passenger Director at Passenger focus and Frank Thorpe, Head of Bus Systems at Williams Hybrid Power, that are developing more environmentally friendly buses with investment from the Go-Ahead Group.
Andrew Wickham: "Surveys show that the perception of services differ depending on whether a person uses bus travel, where most surveys show a better result than that of someone who never uses public transport. People who have not used a bus for decades have no idea what improvements have been made to services. This is something we can help to address in order to enhance the environment and reduce traffic congestion by encouraging more people to consider bus travel."