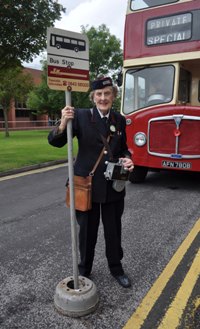 A former bus conductress took a nostalgic trip down memory lane when she boarded a 1964 classic AEC Regent double decker for her 90th birthday.
The now retired Beatrice MacDonald relived her bus conducting days with the East Kent road car company when she donned her original uniform for the special journey.
Susan Sheppard, floating support officer at the 90 year-old's retirement home said: "Beatrice is a lovely lady. We have literally had hours of fun talking about her exploits during the War and her bus conducting days, which spanned some 30 years.
"I really wanted to do something special for her. When I contacted the Friends of the East Kent Road Company (FEKRC), they remembered her with fondness and agreed to donate a bus for her trip."
The bus went on the same Folkestone to Dover route Beatrice had worked on.
She said: "In some ways it was as if I never left, it was a fantastic surprise and a wonderful memory which I will remember for the rest of my days.
Ben Bridges, a Stagecoach controller and volunteer driver with the FEKRC said: "It is always great fun to go back in time. I really enjoyed driving one of East Kent's original clippys back through her old bus route."