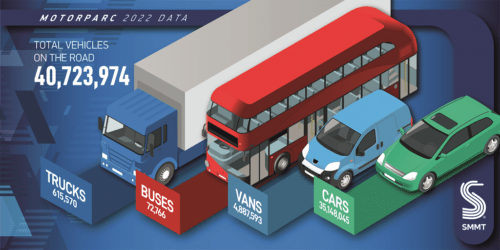 More Britons are getting back into the driving seat following the pandemic, according to new annual Motorparc data from the Society of Motor Manufacturers and Traders (SMMT), which shows a rise in the number of cars in use on UK roads last year. The figures show an increase of 124,393 vehicles to a total of 35,148,045, matching 2019 levels. The figures also revealed a post-pandemic recovery for businesses, with 615,570 trucks and 4,887,593 vans in service, up 1.9% and 1.7% respectively, with a notable increase in the number of HGVs and the number of vans on the road making up almost one in eight vehicles in use, the largest proportion ever recorded.
However, against those rises, the UK's overall bus and coach fleet has fallen again, by 2.3% to 72,766 vehicles – the lowest since records began, with 16,608 going out of service over the last decade. More than one in four buses has been in use for more than 15 years, the figures showed, which the SMMT said demonstrates the need for support to encourage operators to invest in new zero-emission buses given the essential role these vehicles play in providing mobility for millions of people and in road transport decarbonisation.
Despite the overall increase in vehicles on the road, average car and van CO2 emissions have fallen by 1.6%, figures showed – driven by the influx of new lower and zero emission models. Ownership of electric commercial vehicles has also risen, with vans up some 67.3% and buses and coaches increasing by 34.9%, while the number of zero-emission trucks has almost trebled since last year – although they still account for fewer than one in 600 in use.
Mike Hawes, SMMT Chief Executive, said: "After two tough years, Britain is on the road to recovery with the first growth in car ownership since the pandemic – while vans and trucks also continue to deliver for business and society in ever greater numbers. Better still, we are driving Britain towards a net zero future with more than a million zero-emission vehicles now on the road and cutting carbon. With exciting new technologies and models fuelling our appetite to get back behind the wheel, now is the time to commit to greater investment in infrastructure and incentives, to speed up a switch to carbon-free mobility that is accessible to all."