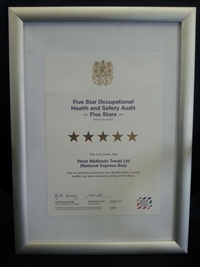 National Express West Midlands (NXWM) has been awarded five stars for health and safety.
The British Safety Council gave the bus operator the top rating after visiting the company to do a full audit.
The auditor assessed the bus operator on its leadership, risk management and how well a health and safety culture is embedded in all its ways of working. A company must score 92% and above to get five stars.
National Express' Head of Safety, Paul Harley, said: "Every working day, NXWM carries a million passengers on 1,500 18-tonne buses through some of the busiest streets in Europe.
"For us, safety is an absolute – so we're delighted with this award.
"Our Driving Out Harm campaign focuses on changing the way everyone at National Express thinks about safety and how we all behave. Every one of us is expected to flag up and learn from every incident – from collisions on the road to the trip hazards presented by crisp packets.
"And in the last five years, we have halved the amount of injuries and the costs of safety-related incidents."