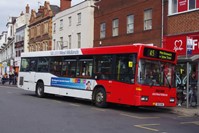 Senior management at National Express West Midlands (NXWM) have just confirmed that an enthusiasts' day can be held in Walsall to say farewell to the four types of bus being withdrawn on Saturday, October 3, 2015.
It will be a similar event to the popular final Walsall MCW Metrobus day, but the route used during the day will be the 301, which links Walsall, Leamore, Bloxwich and Mossley via Ryecroft and Blakenall Heath.
The event will see operation of all four vehicle types – Volvo B6, Volvo B10, Mercedes-Benz O405 and Optare Spectra – used throughout the day.
While details remained to be confirmed as this issue went to press, organisers hope it to be able to do a final run into Birmingham on the X51 (Walsall to Birmingham, via Scott Arms) in the afternoon the same as was done with the Metrobuses.
Further details are expected to be available online at https://nxbus.co.uk/west-midlands as soon as they are confirmed.