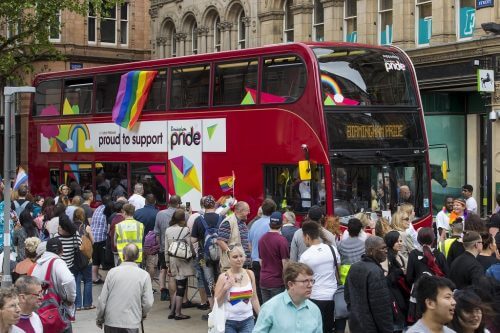 National Express West Midlands (NXWM) provided a vehicle for Birmingham's Pride festival on Saturday, May 27.
The operator previously ran the specially liveried Pride 2017 ADL Enviro400 double-decker in service on the streets of Birmingham for two weeks, before sending it to the crowded streets in the Pride parade.
James Donnan, responsible for community relations at National Express, said: "NXWM was one of the first corporate companies to get involved with Pride – years ago, before it grew into the major festival it is now – so we weren't going to let anything stop us from taking our rightful place in this year's parade."
NXWM's talented in-house design team added the Birmingham Pride 2017 logo to the side of the crimson-liveried Enviro400, using a T/Side, a Superside, a Rear and bespoke window vinyls.
However, a couple of days before the parade date, the Pride bus was involved in an accident which damaged various parts, including the front nearside bumper.
Matt Jukes, who drives the Pride bus in the parade every year, said: "I could not believe it when the garage told me. We have 1,600 buses in the fleet, and that was the one that had to get damaged.
"At first, we were worried that we couldn't get the right parts, but engineering worked their magic and pulled out all the stops to make sure 4875 was looking perfect for Saturday."
An additional worry was the heightened terror threat after the recent terrorist attack in Manchester. James Donnan kept in close contact with the festival organisers all through the week to find out whether the plans would change.
"After the Manchester bombing, I asked our team of volunteers whether they were still happy to take part," he said. "I told them that West Midlands Police had decided the event could go ahead, but that we would totally understand if they were not comfortable to come.
"Every single one of them came back and said it was really important and chose not to be afraid and attended."
Madi Pilgrim, HR Director for National Express West Midlands, said: "It's so lovely to see the National Express Pride bus in the parade.
"It's really important for us as a company to show our support for LGBT+ people in Birmingham and the West Midlands.
"I'd like to thank everyone who worked so hard together to make it happen."