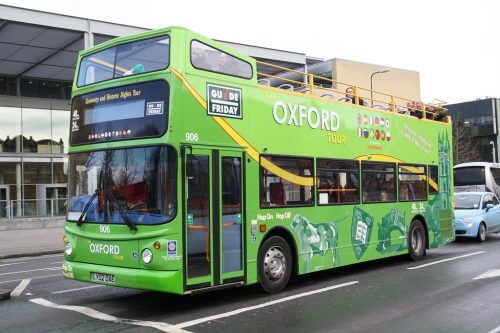 City Sightseeing Oxford will continue to run as a standalone business as Tom Tappin Ltd joins the Oxford Bus Company family
Go-Ahead Group-owned Oxford Bus Company (OBC) has announced it has acquired Tom Tappin Limited, the company which operates the Guide Friday and City Sightseeing Oxford city bus tours.
It will join the OBC family of companies, which also includes Thames Travel and Carousel Buses. The City Sightseeing Oxford operation will continue to be run as a standalone business, under the management of General Manager Jane Marshall and Operations Manager John Corti.
In due course, it is anticipated that OBC will bring fresh investment to the City Sightseeing business and that the acquisition will lead to improved opportunities for cross-selling between the City Tour and other OBC brands such as Park & Ride, the airline and X90 coach services – as well as the new tourist focused River Rapids routes. Numbered X38, the latter uses nine refurbished ADL Enviro400s on the recently reinstated Oxford to Henley direct service, which has also brought enhanced frequencies between Oxford and Wallingford from every 30 minutes to every 20 minutes.
Commenting on the acquisition, Phil Southall, Managing Director of OBC said: "It's really exciting to be taking ownership of such a successful and professionally-managed business, which has a long and proud history in Oxford. We're looking forward to working closely with the team at City Sightseeing to learn more about the company and to develop plans to ensure we collectively give the best possible welcome to visitors to our city."