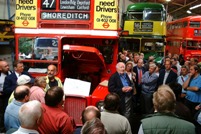 After a long period of ill health Colin Curtis died on September 18 at Crawley Hospital, aged 86. Colin's name was synonymous with the specialist engineering development of London Transport road vehicles. He joined in 1947 and despite the considerable technical advances over his period of influence, he remained fixed on the benefits of saving weight, was determined to deliver designs which simplified maintenance and unit changes and pioneered the widespread use of hydraulics – notably in the Routemaster's braking system.
He was latterly dubbed the 'father of the Routemaster,' though he didn't like the term and said if anyone was, it was Bill Durrant.
After retirement from London Buses he ran his own consultancy. He was active in the preservation movement – he had his own RF – and was Life President for what is now the London Bus Museum and the Routemaster Association. He wrote about his life and times in a book '40 Years with London Transport'.
His wealth of knowledge and experience was always in demand and he would give interesting and thought-provoking lectures for as long as his health allowed.
A post on Leon Daniels' blog at https://leondaniels.blogspot.co.uk provides a more personal account of Colin's life.