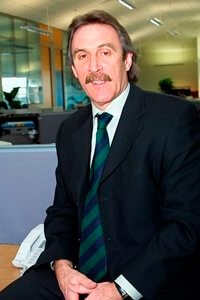 Don Johnston, who worked for Volvo Bus from 1988 up until his retirement in 2015, passed away on Sunday, July 3 after a period of illness.
Don grew up in County Fermanagh, Northern Ireland – the eldest of four brothers – on the family's farm. Away from the farm, his first job was in the drawing office of a coach builder in Belfast, although the better pay enjoyed by the skilled tradesmen quickly attracted him to the shop floor.
He left Northern Ireland to join Duple in Blackpool in a similar role, but quickly found himself in the personnel office – his natural charm and personable character no doubt contributory factors in the switch.
A move to the sales administration department then naturally led to a sales opening, which was to be the start of a long and successful career in coach sales. It was at Duple that Don met lifelong friend and colleague Duncan Crosby. His "Blackpool years" were also notable in that it was then that he first met Denise who, two years later, became his wife.
After short spells at LAG and Stuart Johnson Coach Sales, Don was brought into the Volvo Bus organisation by then Sales Director Bill Russell, heading up the coach sales team based in Warwick.
Don's easy manner, extensive industry knowledge and customer-orientated approach created many close and long-standing relationships with coach operators large and small the length and breadth of the country.
In 2007, Don moved from his position as New Coach Sales Manager to Marketing Manager, a role he held to his retirement in 2015.
A very sociable person, Don had a great love of jazz and blues music, particularly when enjoyed with a glass of red wine. He was also incredibly fit – a keen footballer, he was still playing five-a-side football at the age of 71 in Spain, where he was spending his retirement years.
Don leaves wife Denise, sons Adam and Daniel and three grandchildren.
Family, friends and former work and industry colleagues attended a celebration of Don Johnston's life at Lytham Park Crematorium yesterday (Thursday July 7). The family has asked to pass on their heartfelt thanks for all the messages of sympathy and support that they have received, which has provided a great deal of comfort at this difficult time.