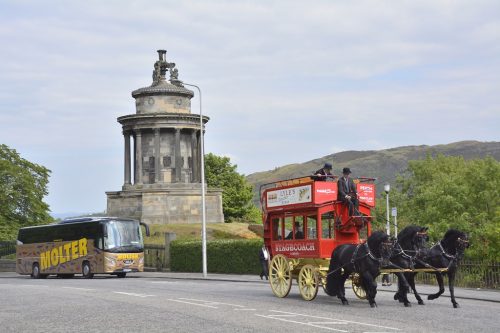 In case tour drivers think they have a hard life today, Alan Payling looks back to consider what life was like for coach drivers in the 17th century at the dawn of the era of stagecoaches
There are many that will have enjoyed a six to eight day trip from London to Devon. Leaving the smoke behind and heading west is always a pleasure. The route hasn't changed that much in quite a long time and the speed of travel is somewhat similar. I say 'similar' with my tongue very much in my cheek. While modern coaches on busy bank holiday weekends can hit average speeds of 30mph, in the late 17th century coaches were rattling along on the London to Exeter route at an impressive 30mpd. Yes, that's right, 30mpd was a good speed in Restoration England – 30 miles per day. This meant that while the modern coach can cover the route in a quarter of a day, tour round Devon and then get home, all in a week, stagecoaches – real stagecoaches – would only manage a one way trip in that time. Everyone would have thought that in comparison to earlier times that was quick, very quick, almost a wonder of the age.
A tough job
So what was life like for the coach driver in the second half of the 17th century? In a word, it was a rough, tough, unpleasant, sometimes dangerous life for some very rough, tough and occasionally, dangerous people.
The obvious difference is that the stagecoach driver, or coachman, would always be exposed to the weather and there was a lot of that heading straight at him, fully exposed as he was to the wind, rain, hail and snow. If you wanted some heat, you had to rely on the sun, but the air-conditioning of the day was more likely to be turned right down to below freezing. This was the period of England's little Ice Age, the time when it was so cold, Londoners held the famous ice fairs on the Thames when the river was frozen solid from January 2 to February 20 1684. What was known as the Long Frost ran from December 1683 through to February 1684. It is reported that even the sea froze for a mile off Kent. It was a cold job driving a stagecoach.[…]
By subscribing you will benefit from:
Operator & Supplier Profiles
Face-to-Face Interviews
Lastest News
Test Drives and Reviews
Legal Updates
Route Focus
Industry Insider Opinions
Passenger Perspective
Vehicle Launches
and much more!