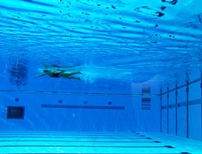 HCT driver swins 1,270 metres as part of arts project
Semina (Sam) Yousef, one of a team of 30 Hackney Community Transport (HCT) drivers on the Olympic Park, swam the distance of her 1,270-metre route in the 17,500-capacity Aquatics Centre. The distance is equivalent to more than 25 lengths of the 50-metre competition pool.
The feat was filmed as part of a series of commissioned works, which are being supported by the Arts Council England and the Olympic Delivery Authority (ODA), to give a personal insight into the ordinary jobs which are as much a part of the Games as the athletes competing.
Sam Yousef said: "I felt privileged to be able to swim in the Aquatics Centre. I have always wanted to be an athlete and this made me feel like one. It was really emotional and will be something I will always remember. I could have stayed in there forever."
Sam who originally came from northern Cyprus now lives in Leytonstone, East London, and became a bus driver after receiving funding from the ODA's Apprentice Scheme, which enabled her to apply for a driving licence. She had previously worked as a swimming instructor and lifeguard.
Simon Wright, ODA director of venues and infrastructure, said: "Since construction started in 2007, the bus drivers on the Olympic Park and Village have been a constant and essential part of the workforce. Sam's story captures the Games ethos of being 'part of it'. It's an amazing achievement for her to have swum over 25 lengths in the Aquatics Centre and highlights the role of local people in the Games."