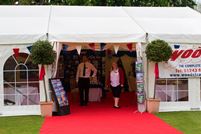 Family-run coach operator and travel agent Woods Travel Ltd of Bognor-Regis has celebrated its 45th anniversary in open day festivities on Saturday, May 14, at Arundel Castle Cricket Ground.
The event started at 1000hrs with over 400 guests in attendance – some being escorted via coach from as far away as Horsham and Eastbourne. Woods also had a shuttle service, by coach, running to and from Arundel town throughout the day.
Guests had the opportunity to book holidays on the day, as well as learning more about the history of the operator. Woods also showcased a range of photographs, articles and memorabilia in the Woods Travel 45 Year Exhibition Marquee, with display boards showing details of coach holidays, day trips and cruises.
Joining the merriments were Pinks Vintage Ice Cream, George's Regis Jazz Band and 'Owls About Town', offering tasty treats, melodic tunes and avian fun to compliment the special day.
Roger Elsmere, Managing Director of Woods Travel Ltd said: "We would like to say a massive thank you to everyone who made our 45 Year Open Day such a success! Our hard-working staff, for the immense amount of effort they put into the day, our amazing travel partners for providing exciting and informative presentations and the team at Arundel Castle Cricket ground for helping us create the perfect venue.
"But most of all thank you to our wonderful, loyal customers, those who attended our event, and all those who have used our services over the years – it is because of them that our grand celebration was possible."