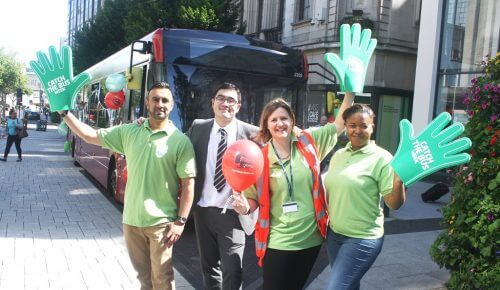 The event will see operators across the country promote the benefits of bus travel to potential new customers
The fifth annual Catch the Bus Week has commenced.
The campaign, which this year takes place from July 3-9, aims to drive awareness of the benefits of taking the bus, encouraging local people to make the switch from the car for a week and consider leaving the car at home forsome journeys in the future.
Claire Haigh, Chief Executive of Greener Journeys, said: "We're really excited about this year's Catch the Bus Week. We look forward to bus operators, MPs, local authorities and schools coming together to celebrate the bus and encourage people to leave their cars at home and hop on board.
"From deals to competition and yarnbombing to green hands, the creativity on display during Catch the Bus Week is astonishing and this year will be no different.
"There isn't a single area of our daily lives that doesn't in some way depend on the bus so it is fantastic to see its worth celebrated in such creative and fun ways."
Stagecoach East Midlands is using the week to celebrate some of the improvements that partnership working has delivered for bus passengers across Lincolnshire, North East Lincolnshire, Nottinghamshire and East Yorkshire and looking ahead to further ways of making bus services even better.
Stagecoach East Midlands has also partnered with Lincolnshire County Council, which is holding a Golden Ticket competition. Passengers across the county will be invited to check their seats and, if they find a golden ticket, they could win one month or one week's worth of bus travel.
Stagecoach East Midlands' Managing Director, Michelle Hargreaves, said: "As the region's largest bus operator we continue to work hard with our local authority partners to make using the bus an attractive, affordable, and environmentally friendly way to travel. Catch the Bus Week provides an excellent opportunity to promote our achievements."
Stagecoach in South Wales is carrying out a programme of promotional activities, including tweeting seven places to visit on the bus along with wider social media activity, attending the Caerphilly Live event on July 6 to promote bus use and highlight its value for money, and visiting Talbot Green with its info bus, handing out free goodies and promoting bus travel.
Nigel Winter, Stagecoach in South Wales Managing Director, said: "There are obvious environmental benefits of taking the bus instead of driving – but bus travel can also save people money and reduce the stress of driving and parking in busy towns and cities. Our aim is to encourage more people in South Wales to leave their cars at home and we hope people will enjoy Catch the Bus week 2017."
National Express West Midlands is offering five days' discounted travel with a special Regional eDaysaver, preloaded with five days' travel for £15.00, down from the normal price of £19.
Managing Director of National Express West Midlands, Tom Stables, said: "We know that once people try the bus, they like it, so our special Catch the Bus Week discount is a great opportunity to get on board.
"Buses bring so many benefits to our communities. They bring people together, they improve our health and they boost economic growth. Our buses take a million people to work, to college, to the shops and to see their friends and family every day.
"Buses are also the answer to the public health emergency that is poor air quality in the West Midlands."