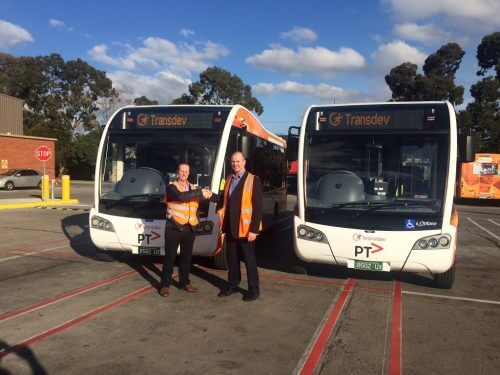 Bus Corp Oceania is to build a new aftersales team for Optare products over the next eight weeks
Optare Group PLC has announced Bus Corp Oceania Pty Ltd (BCO) as its new distributor for Optare products in Australia and New Zealand.
Graham Belgum, President of Optare commented: "Optare Solo, Versa and Tempo are very well proven products in the UK, European and Australasian markets, particularly attractive to operators because of their low deployment cost, style and fuel-efficient designs. We now also seek to introduce our lightweight Metrocity range particularly adapted for heavy use urban environments.
"We will be working together with BCO to take the Optare brand to a new level in terms of supporting existing customers through further expansion of the sales and aftersales networks in the region, including the introduction of new products to meet the region's market needs. In addition to our UK manufactured products and in conjunction with our distributor we will be exploring ways of bringing some local assembly to Australia."
BCO has engaged Jason Pecotic, who has over 25 years' experience in the automotive industry including many years specifically within the bus and transport sector. Utilising his experience with the likes of Cummins, Allison and ZF, BCO said it will develop a highly experienced team to focus on aftersales support for the Australia and New Zealand operations.
Jason said: "Our first round of staff recruitment has begun, with our target to have a complete aftersales and spare parts division fully operational within eight weeks, from BCO's Moorabbin premises in South East Melbourne."
Guy Pex will continue as Sales and Marketing Manager across Australia and New Zealand for the Optare range, after previously working with Optare locally.
Shannon Taylor of Optare will continue to provide direct factory support as the local representative of the Optare Group within the region.
"It's an exciting time to be joining the Optare family," Jason added.
"With Optare's proven low deployment costs, packaged with running cost saving high technology as well as a passenger comfort focused bus range, the timing is perfect as Australia and New Zealand enter new rounds of operator contract tenders and government procurement negotiations.
"We currently have a fleet of demonstrator vehicles available for operators now for trial purposes and as our supply of units increase we will build that fleet to a level where no operator should have to wait too long for their personal experience.
"We believe the Optare product range will save millions of dollars towards operators' contract costs, which has benefits for every public transport budget in the region."