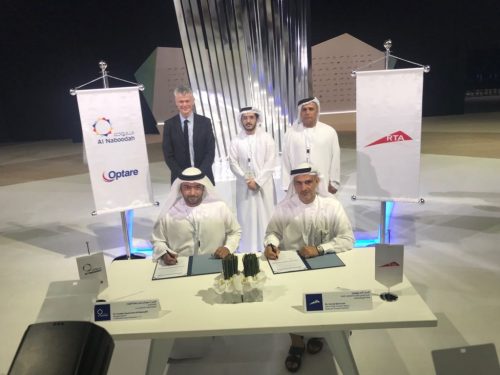 Optare is to supply 94 Solo single-deckers to Dubai's Roads and Transport Authority in a deal valued at approximately £18m.
The company will supply 8.5m Optare Solos, powered by Cummins Euro 5 engines.
The specification of the vehicles will include air-conditioning, onboard WiFi and smart phone USB charging sockets.
The buses will seat up to 24 passengers, with additional standing capacity. They are expected to enter service in quarter one of 2019.
Mattar Al Tayer, Director General and Chairman of the Board of Executive Directors of Dubai Roads and Transport Authority (RTA), said: "The procurement of the new buses is part of a master plan set out to upgrade mass transit systems in Dubai and keep them aligned with the highest global practices.
"The plan also calls for providing best-in-class services to mass transit users and keeping abreast of the sustained growth of ridership of these modes.
"It conforms to RTA's endeavour to make public transport the ideal mobility choice of people and push the share of public transport in people mobility to as much as 30 per cent by 2030.
"Achieving such objectives requires an offering of high-quality public transport options at affordable rates and with a wide geographical coverage."
Graham Belgum, Optare President, added: "The procurement of the Optare Solo is a new initiative marking the debut of this type of feeder style bus with Dubai Road Transport."