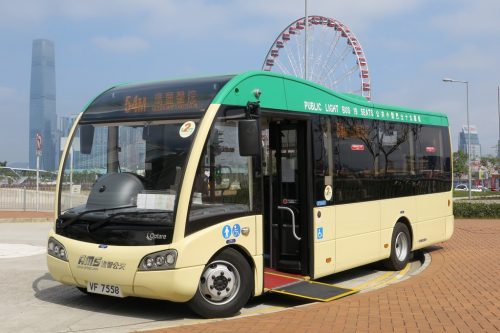 Trial will see Optare Solo trailed on three hospital routes in former British territory
HONG KONG An Optare Solo designed specifically for operation in Hong Kong has commenced service on Hong Kong Island with AMSPT on green minibus (GMB) route 54M (Kennedy Town Station – Queen Mary Hospital). The Hong Kong Transport Department is evaluating the bus and plans to trial the Solo on another two hospital services operating via Prince of Wales Hospital and St Teresa's Hospital respectively.
The Solo's combination of shorter length, narrow width, low-floor access and high seat capacity are considered ideal for the routes it will serve in Hong Kong, says its manufacturer. It's accessible to all passengers including wheelchair users and people with reduced mobility and can be boarded quicker and more easily than high-floor equivalents.
A spokesman for the Hong Kong Transport Department said: "We are glad to announce that the first low-floor wheelchair accessible Public Light Bus (PLB) will be put into service in order to further promote the concept of transport for all. The trial scheme is one of the measures put forward in the Public Transport Strategy Study published in June 2017, with an aim to facilitating wheelchair users to use PLB services."
Robert Drewery, Commercial Director, Optare, said: "The low-floor Solo is a first for Hong Kong and it is hoped that the vehicle will improve travel for all passengers and people with disabilities in particular. The Solo's higher seat capacity should help address a shortage of drivers in Hong Kong also. Following a successful trial, there is potential for the Solo to enter the bus market in Hong Kong as a programme of upgrading the existing high floor minibus fleet begins."