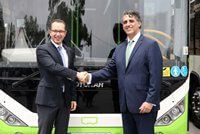 Maltese operator adds more Turkish manufactured buses further reducing age profile of fleet
MALTA Malta Public Transport has taken delivery of 33 Otokar Kent Cs, bringing the number of Otokar buses in its fleet to 176. The firm bought 143 nine-metre Vectio Cs last year, but the latest arrivals, 12-metre vehicles will be used on the busiest routes.
"We are proud to say that Malta now has one of the youngest bus fleets in Europe, with an average age of just over three years, while the average in Europe is over nine years," said Felipe Cosmen, Chairman of Malta Public Transport. "Almost half of our fleet is now less than one year old, with Euro 6 engines. We are setting new standards for environmentally friendly transport and contributing to cleaner air."
Joe Mizzi, Minister for Transport and Infrastructure, who was also present for the launch, explained how Government is improving public transport in Malta. "Nowadays, people expect to get on a comfortable bus and get to their destination on time," he said. "Throughout these two years, we have taken major steps to ensure that this can be achieved. This includes the introduction of new routes and modification in others, the introduction of the tallinja card which has helped reduce boarding time, and as a consequence, journey time has decreased as well. We have also seen the introduction of priority lanes and the new buses having two doors which further help reduce boarding and alighting times. The addition of these new buses will see seating capacity increase considerably."
The Kent C has a height of 3.145m and width of 2.540m. Power comes from a six-cylinder Cummins ISB6.7E6280B engine driving through a Voith Diwa 854.6 automatic gearbox. The rear axle and differential are ZF. The seating capacity is 37 with room for 56 standees and one wheelchair or four foldable seats.