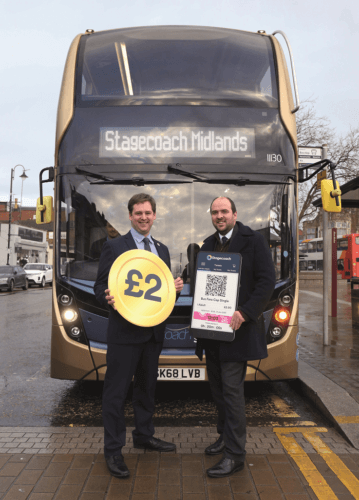 The £2 fares promotion saved thousands of people money in its first few days, according to one operator which is taking part Stagecoach says that by 6 January over 300,000 passengers had already taken advantage of the Government's £2 single fares promotion in England since the launch of the initiative on New Year's Day. The operator said that passengers on its routes on the South Coast and in South Lancashire had been amongst the fastest to benefit from the initiative, with large numbers choosing to travel on popular routes such as its Coastliner 700 between Portsmouth and Brighton and 125 between Bolton and Preston in the first few days of the scheme. Other areas which have proved popular have been Cumbria, which is home to the 599 from Bowness to Grasmere, named one of the most scenic bus routes in Britain.
Managing Director of Stagecoach Carla Stockton-Jones said: "We are delighted to see that thousands of people are already making the most of this great initiative. There's never been a better time to try the bus, and with around 10 million people in England living within walking distance of one of our bus stops, we're hoping that people will take the opportunity to get out of their cars and give the bus a try for the bargain price of just £2 for a single ticket."
Portsmouth benefits from earlier and later buses
Stagecoach South has extended operating hours on its Portsmouth services 21 and 23. The new journeys are run in partnership with Portsmouth City Council, and funded by the Government's Bus Service Improvement Plan scheme.
Buses now start as early as 0415hrs Mondays to Fridays, and extra buses are running after midnight on Friday and Saturday nights, with the last departures from the city after 0100hrs.
The Stagcoach South team went out and about at the city's The Hard Interchange to promote the new journeys as well as the company's participation in the Department for Transport's £2 single journey fare initiative. Colin Ashcroft, Portsmouth Operations Manager said, "We are pleased to be able to work with Portsmouth City Council on increasing the timetable frequency on services 21 and 23. We are confident the extra journeys and the new £2 flat single fare will make choosing the bus for travel around the city an easy one and hope that residents will take full advantage of the increased service provision and reduced fares. These latest changes provide an opportunity to help reduce car usage, making Portsmouth a cleaner and greener place to live."