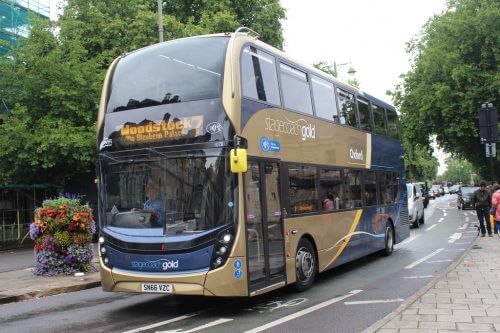 City will gradually phase out emission creating vehicles as vehicle technology develops, with a view to only allowing zero emission vehicles across the city from 2035
Oxford City Council and Oxfordshire County Council have put forward joint proposals to introduce a Zero Emission Zone in Oxford city centre, which they say would see historic reductions in air pollution.
While Transport for London is planning to introduce the world's first Ultra-Low Emission Zone in the capital in September 2020, the Councils say that this would be the world's first Zero Emission Zone.
The proposals would see emitting vehicles banned from the city centre in phases, starting with petrol and diesel cars, taxis, light commercial vehicles and buses on a small number of streets in 2020 and, as vehicle technology develops, moving to all vehicle types across the whole city centre in 2035.
The council claimed this would take air pollution levels in Oxford city centre down to near-background levels.
The City and County Councils have launched a six-week public consultation period, during which they will be seeking views on the speed of the implementation, and the vehicle types and roads affected Martin Sutton, Managing Director of Stagecoach in Oxfordshire, said: "Stagecoach has invested heavily in hybrid and low emission buses in recent years and already has one of the cleanest bus fleets in the country.
"We are fully committed to working with the City and County Councils to achieve further improvements in air quality and we are pleased to see that all vehicle types are included in these latest proposals.
"There is still some way to go before zero-emission technology for buses is fully developed and we look forward to working with both City and County Councils to explore what can be achieved and in what timescales."
Phil Southall, Managing Director of the Oxford Bus Company, commented: "One of our core values is being socially responsible to the people we serve and the environment we all share, and so we always embrace modern technology to ensure we are as green as possible. All of our fleet was upgraded to at least Euro 5 standard for the introduction of the Low Emission zone in 2014, and today we already have 70 Euro 6 vehicles, as well as 90 vehicles with hybrid systems fitted.
"We support the principle of a Zero Emission Zone in Oxford. However, zero emission bus and coach technology is still evolving so we will work with the City Council to identify the possible solutions for Oxford and the time frame in which they might be able to be deployed."
Cllr John Tanner, Oxford City Council Executive Board Member for A Clean and Green Oxford, said: "Toxic and illegal air pollution in the city centre is damaging the health of Oxford's residents. A step change is urgently needed; the Zero Emission Zone is that step change.
"All of us who drive or use petrol or diesel vehicles through Oxford are contributing to the city's toxic air. Everyone needs to do their bit – from national Government and local authorities, to businesses and residents – to end this public health emergency."